---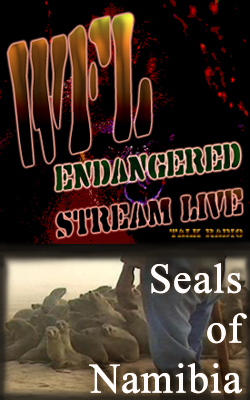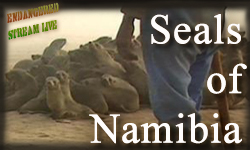 Get the Code to these Banners!
---
At present, during the past year, Francois has received little or no financial support, and has primarily resorted to trying to funding his own activities. The 60 baby seals rescued, which require rehab for the year, are a huge financial burden, causing him to purchase 3 tons of fish monthly, or for the year 360 000 rands or USD $45,000. Financial support is greatly needed.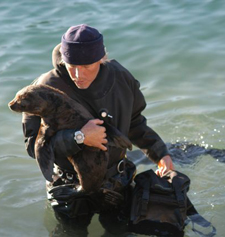 Namibia's seal cull a threat to the survival of the species
Like the US and EU Seal product import bans have stated, clubbing to death of any wild seal species in the wild is cruel and inhumane. Many equally feel the larger the number of seals clubbed to death the greater the obvious cruelty.
The recent EU all-seal-species import-product-ban looked primarily at the point of killing; but had the EU examined each species more deeply, it would have found Namibia's seal pup cull the cruellest on earth.
There is a distinct difference between the Canadian Seal Hunt and the Namibian Seal Cull. A cull by definition seeks to destroy a seal population by reducing it. A hunt on the otherhand is more selective and driven by commercial exploitation. A cull therefore effects the species, whereas a hunt, the individual animal.
The Cape fur seals are listed as an endangered species by the United Nations – Convention in Trade of Endangered Species (CITES) to which 173 countries are signatory to.
Namibia's seal cull starts on 1 July 2009, and involves 85 000 pups and 6000 bulls.
(more)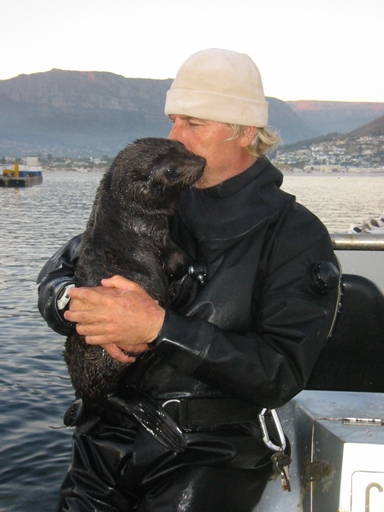 ---
The Namibian Seal Slaughter has been called the cruelest in the world. 910,000 seals are earmarked to be killed in the next ten years, with an annual quota of 85,000 seal pups and 6,000 bulls. Cape fur seals live in permanent colonies on land, and the pups suckle from their mothers for 12 months, forming an intense bond. Sealers invade the colony and the terrified seals are herded in-land in groups and clubbed to death. Many pups die in shock or from heat or suffocation. Others die of starvation when they become separated from their mothers in the mayhem of the slaughter and are too young to obtain their own food. The established colonies are continually fleeing for safer ground.

Because the seals have been forced to flee the offshore islands due to past sealing, 25% of the pups are killed by jackals attacking colonies on the mainland. Another 19% die of other causes before the seal cull even begins. The annual slaughter literally wipes out the remaining population of pups as well as causing an extreme disturbance in the functioning of the colony as a whole. If the slaughter continues, nearly one million seals will be killed until 2019 providing the seal population does not collapse first.
---
The youtube clip below was taken during the cull. It depicts the ruthless killing and the defenseless and innocent seals.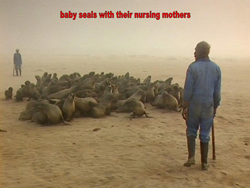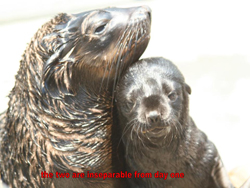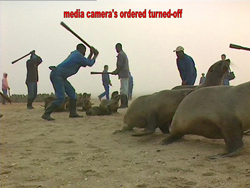 WFL ENDANGERED STREAM LIVE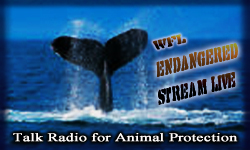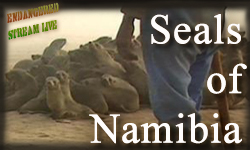 TALK RADIO FOR ANIMAL PROTECTION
"Seals of Namibia"

with

Francois Hugo

Cape Fur Seals

Video Footage: 2009 Namibia Seal Hunt and Attack on Journalists

---

---

Ministry Warns of Espionage

Windhoek - the fishery Ministry has the South African seal protective action seals Alert urgently before a secret film action warned. The authority would be present information, according to which seal Alert due to the recent negative reporting over of Namibia seal striking flat, covers photographs from the harvest to make. Such a project constitutes a hostile and provocative action, which we would not take on the light shoulder ", stressed Alfreds Mbanga, press spokesman of the Ministry. (cont'd)

Read Namibia German Press article here: Ministerium warnt vor Spionage

Tranlate the article here

---

In response to the Espionage accusations, Francois Hugo asks:

Francois Hugo of Seal Alert-SA is somewhat confused

by these statements from the Ministry. Is photographers and tourists taking pictures of seal colonies an 'Act of War'?

 

      Is taking pictures of Namibia's endangered wildlife or sealing factories and "act of espionage"? 

 

      Did the Ministry not release Seal Alert-SA's photographer, Neil Hermann on the 12th August 2009, after several hours of questioning him without any formal charges being laid. So where is Seal Alert-SA actions to end the illegal brutal clubbing of endangered baby seal pups, unlawful or an act of war? 

 

      What is the 'state secret' Namibia is so desperate to hide ?

---

40 baby seal pups all aged 7 months and weighing 12kg's, have read and approve of the Namibian Sealing Industry Buy-Out to save their siblings

Seals Alert SA: http://sealalertsa.wordpress.com/

NEWS

Journalists Attacked and Arrested in Namibia for Filming Seal Slaughter

Namibian Sealers turn Clubs on undercover Journalists

July 16th, Compassionate Animal.TV Report

July 16th, "13.73 Billion YRS" interview w/Francois Hugo:

Jluy 12th, Press Release from Seal Alert SA:

July 8, 2009 News Article Los Angeles Examiner

July 6th News: The National.ae

July 5th Update re Namibia Seals

July 1, 2009 News Update on Namibia Seal Slaughter

Namibian sealers getting ready to club seal pups on 1 July 2009

---

BACKGROUND

For 140 days, staring July 1st, the Namibian government permits the killing of about 85,000 nursing baby Cape Fur seals...on the pretext of creating employment for 120 unskilled workers living in cardboard shacks near the seal colony.

Francois Hugo of Seal Alert-SA has set-up private Seal Rescue and Rehabilitation facilities in Hout Bay Harbour over the past 10 - years. Its is self-funded.

Each year I try to take in a select group of babies from different effected seal colonies, in order to further and pioneer the ability to successfully raise a group of babies in order to eventually establish the means of re-populating these extinct seal islands.

-Francois Hugo

ABOUT SEALS ALERTS- SA

"Seal Alert-SA was established in 1999, as a direct hands-on organization to address the imbalances, cruelty and abuse that has plagued this species for well over 600 years. Our primary roles are investigation, rescue and in the wild rehabilitation, free of all forms of confinement. Our ultimate goal is the re-establishment of the ecology path, this species has been diverted away from. We seek an effective and meaningful, protected natural balanced marine environment, that is not based on unnatural animal segregation or exclusion policies or over protection of one species to the detriment of another". -Francois Hugo

Music Credits:

SAVING SEALS OF NAMIBIA: Featuring music from "They Wanna Kill"

Written and performed by Maria Daines & Paul Killington
www.maria-daines.com

Published by
NorthStar Music Publishing Ltd.
MCPS/PRS (UK)
Tel.: + 44 (0) 1787 278256
info@northstarmusic.co.uk

SEALS OF NAMIBIA: Featuring music from "Song for Canada's Harp Seals"

Alice Bruckenstein, Composer & Lyricist. Vocals by Lora Lee Ecobelli. Flute: Leo Burmester



"Seals of Namibia"
with
Francois Hugo of Seal Alert-SA
Get code for a player of this show
---
This is a special broadcast with Francois Hugo streaming in from South Africa with just days left before 91,000 baby seals become victim to the senseless annual Namibia cull. Nursing pups will scramble trying to escape sealers armed with clubs, but no survivors will be left once the cull is finished. This cull lasts for over 140 days, right up until the next birthing of baby seals in December. Recognized as an endangered species by the United Nations, these animals will not be able to sustain themselves much longer. This is known as the world's most cruel slaughter of seals, but there is hope.

Francois Hugo is in negotiations with the Namibia sealing industry and has a once in a lifetime opportunity to buy them out and shut it down for good. "Its an unconventional but valid solution," says Hugo, after trying every other possible means to end the killing. A strong showing of support by the animal supporters globally will buy time for the babies that will otherwise face impending doom.

Listen to Francois Hugo's exclusive interview with Katia Louise here on WFL Endangered Stream Live.
Send a Pledge to be a part of history in the making.

sasealion@wam.co.za
Host: Katia Louise
Featuring music from "Song for Canada's Harp Seals" by Alice Bruckenstein, Composer, Lyricist. Vocals by Lora Lee Ecobelli.
Get a banner for this Cause:

---
June 25th, 2009
Days before the world's largest seal cull is about to begin on 1 July. Francois Hugo of Seal Alert-SA receives offer from Namibia's last seal skin buyer, Hatem Yavuz

to purchase Namibia's sealing industry lock, stock and barrel.
Talks are underway, and Seal Alert-SA plans to after ending the seal cull in Namibia, turn the sealing factories into Seal Museum's for tourists, any revenue obtained to go towards scientific research on Cape fur seals to assist Namibian government further its protection of this species. He has asked for the seal cull to be halted whilst discussions and agreements are being finalized.
Thereafter he will turn my attention to returning seals to extinct former seal islands and assist Namibia where ever possible to protect this species.
South Africa stopped its seal cull in 1990, and with this development the commercial culling of this species will be for the history books, ending 500 years of cruelty.
---
16th, July 2009

Approximately 300 seal pups have been clubbed to death on the shores of Namibia. Their bodies have been transported by a 5-ton truck and then off-loaded at the Henties Bay Sealing factory, which belongs to seal concession holder for Cape Cross, Albert Brink. According to a 1993 media report, Albert Brink was a former nature conservation official for the Namibian government.
On July 6th, an official statement made by Frans Tsheehama of the Namibian fisheries and marine resources ministry was faxed to the main stream media, reporting that the killing of Namibia seals had started on July 1, when in fact it had not yet begun. As quoted from the article by Michelle Theriault, an Associated Press Writer and published in the World US News, "Frans Tsheehama of the Namibian fisheries and marine resources ministry said that the season started on July 1 and will run until Nov. 15." The misinformation lead to over 100 media publications around the world, reporting that the Namibian Seal Hunt was underway with over 90,000 baby seals to be clubbed. Seal Alert SA points out that as of July 12th, no baby seals had yet died at the hand of the sealers. See World US News article here:

Francois Hugo of Seal Alert South Africa has been working for the last ten years rescuing and rehabilitating the Cape Fur seals of Namibia. The fight to end this cruel annual slaughter will undoubtedly continue for years to come until one day when either these endangered little animals have become extinct, or enough animal welfare organizations come together in a collaborative effort to shut it down.
91,000 bay Cape Furs have been allocated to die in this year's official government quota. The final count will be tallied four months from now. What began a few weeks ago for Seal Alert SA as a hopeful, yet controversial attempt to end the annual slaughter for good, has turned to suffering and sadness. This man who wears his heart on his sleeve and is only loyal to the seals, now struggles to fathom the nonsensical reality of unthinkable cruelty to his most beloved companions.
Cast no stones at this hero to seals for his bitterness toward mankind; for he speaks in the tongue of a true and devoted seal warrior. Whose heart is so strong that in light of this travesty no good will shall be honored? Let words not stand in the way of doing the good deeds as our missions do call. The cries of another year's quota of seals will now go unheard. Who will speak out just for the seals and bring this hunt to an end once and for all?
Let's not turn efforts away from helping animals because one controversial campaign failed to spark a showing of public support by the largest organizations. Animals from around the world need the voice of people that care to speak out for them or they have no chance what so ever. Please continue to support the organizations that align with your interests and allow other organizations to focus on all the other animal campaigns.

The bottom line in animal protection is that apathy supports animal cruelty by giving power to the abusers. The fight to end animal cruelty must go on and activists are urged to stand strong for the animals.
TAKE ACTION:
1. Sign Petition to stop the cull before it starts again this year.

2. Sign Petition to End over 600 years of clubbing Cape Fur Seals

3. Send message to pressure Namibian government to end this seal slaughter

4. Send auto email to pressure Haten Yvuz out of Cape Fur seal business

---
---
---
DONATIONS
To make a Much Needed Donation in support of Seal Alert's year around Cape Fur seal rescue and rehabiliation program:
Seal Alert-SA
BOX 221
Postnet Hout Bay 7872
South Africa
---
"Namibia now remains the only country on earth to round up nursing baby seals still suckling on their mother's milk, driving them in-land away from the safety of the sea, and as they attempt to flee alongside their mothers back to its safety are clubbed and stabbed to death by rows of as many as 100 part-time migrant workers - everyday between July 1 and November 15, each year. Vomiting up their mother's milk as they slowly die. On just two mainland seal colonies where 75% of this species unnaturally remains. Where the Namibian government grants 3 sealing concession holders the right to club these protected wildlife seals to death."
Sign Petition to STOP THIS!