"Angels for Cloud" is Brought to You By
Saving America's Horses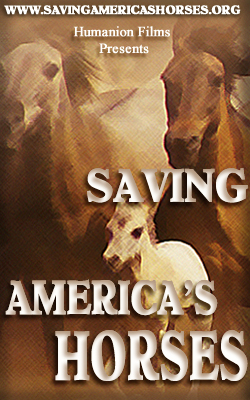 Support SAVING AMERICA'S HORSES, the documentary film campaign, because all horses need to be protected from slaughter!
---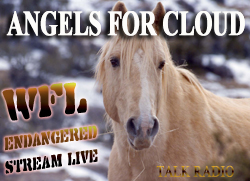 UPDATES
LOVELL, WYOMING - SEPTEMBER 2, 2009 - A Temporary Restraining Order (TRO) request by The Cloud Foundation and Front Range Equine Rescue was denied today in Federal District Court. The TRO was filed to stop the round up of the Pryor Mountain horses, an action unprecedented in size and scope. The Bureau of Land Management (BLM) has contracted with the federally-indicted Dave Cattoor to round up America's most famous wild horse herd beginning September 3, 2009. Wild horse advocate and investigator, Julianne French, explains the situation further in a youtube.com video posted today on The Cloud Foundation website. (CONT'D)
---
BLM'S HELICOPTER ASSAULT ON CLOUD'S ENDANGERED HERD ENDS WITH 57 HORSES CAPTURED

on September 1, 2009, the Bureau of Land Management (BLM), an agency within the U.S. Dept of Interior, began rounding up the wild horses in the Pryor Mountain Wild Horse Range in Montana.
The Cloud Foundation estimates there are 190 wild horses living in the mountains that are 1 year old or older.
The herd is called Cloud's Herd for the horse filmed by Ginger Kathrens, founder of the Cloud Foundation, when he was just a colt. Cloud lives wild and free with his family. At least for now.
The BLM planned to remove permanently "up to 70 adults including foals", having decided they are excess horses. All mares were treated with a fertility control, Porca Zonae Pellucidae (PZP), and released. The way the BLM put it in its Environmental Assessment or EA which the agency is required to prepare pursuant to National Environmental Policy Act ("NEPA"), 42 U.S.C. §§ 4321, et seq., "The method of capture includes helicopter drive-trapping using temporary traps of portable panels as well as trapping directly at Britton Springs Corrals. After capture in the trap, horses would be sorted on site and treated with fertility control or taken to the Britton Springs administrative site for sorting and application of fertility control. Treated mares and stallions identified for retention would be released either during or after gather operations. ....Excess wild horses removed w[ill] be prepared for adoption or sale at the Britton Springs Facility."
Cloud or his family could well be among those horses deemed to be "excess" by BLM and sold. Certainly, it is unlikely they will be together again as a family.
---
Please contact The Cloud Foundation for more information.
www.thecloudfoundation.org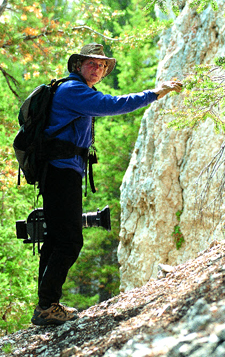 GINGER KATHRENS is an Emmy Award-winning producer, cinematographer, writer and editor as well as an award-winning author. Her documentary filmmaking trips have taken her to Africa, Asia, Europe, Central and South America and all over the U.S. She filmed and produced the acclaimed Cloud: Wild Stallion of the Rockies and Cloud's Legacy: The Wild Stallion Returns for WNET's Nature series on PBS. Cloud will return to PBS on October 25th, with Cloud: Challenge of The Stallions. Five years in the making, it is Kathrens' next chapter in the life of the charismatic wild stallion she has documented since his birth in May of 1995. Ginger's revealing journey with wild horses has been compared to Jane Goodall's experiences with Chimpanzees. Her documentation of Cloud represents the only continuing chronicle of a wild animal from birth in our hemisphere. (cont'd)
---
SAVING AMERICA'S HORSES - All horses need to be protected from slaughter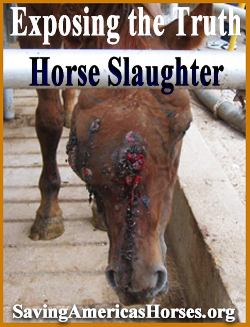 TALK RADIO FOR ANIMAL PROTECTION
"Angels for Cloud"

with

Ginger Kathrens

"Angels for Cloud"

---

Join the Cloud Foundation in Washington DC for Mustangs on the Hill. Come gather on the West Front Lawn of Capitol Hill on Sept 29th in the morning for a press conference and then fan out to meet with key Senators. Supporters are focusing on those who serve on the Committee of Energy and Natural Resources, and asking them to support the ROAM Act. (Restore our American Mustangs Act is now S. 1579). Learn more

CALL IN FOR PRYOR MOUNTAIN HORSES!

To help save these majestic horses, Call and Email President Obama and Vice President Biden and tell them that you do not want a misguided agency destroying Americas wild horses!

Call 202-456-9000 or 202-456-1111

Send an email!

Tell them to intervene on behalf of the Pryor Wild Horse Herd. The BLM appears to be on a rampage to manage wild horses to extinction!

Above: Howard Boggess, Member of the Crow Tribe of Indians, Elder and Historian talks about the Pryor Wild Horses he's known all his life.

A Stallion is rounded up in Challis, Idaho- photo by Elisa Kline. July 2009.

Cloud and the wild horses of Montana's Pryor Mountains are world famous but fame it appears is not going to protect the herd from a drastic government round up planned to begin September 1st in their spectacular wilderness home.

There are currently only 190 wild horses (one year and older) living in the Pryor Mountains. The BLM plans to remove 70 of them, plus foals. According to the foremost equine geneticist, Dr. Gus Cothran, 150-200 adult horses are needed in the herd to ensure their genetic diversity, which is vital to their long term survival.

These 70 horses would be placed in jeopardy. Any horses over 10 years of age can be bought directly by killer buyers and transported over the Northern border to Canadian slaughterhouses or south into Mexico. Younger horses not adopted would be put into government holding with 33,000 others that the BLM has removed from the wild and has proposed killing because they can no longer afford to feed them.

BLM cites poor range condition as the reason to remove the horses but abundant snow and rain for the past two and a half years has produced wonderful range conditions according to all who have visited Cloud and his herd. The Agency is not listening to anyone. They want this herd gutted. Nearly all the mares returned to the range would be given an experimental two-year infertility drug, PZP-22.

MORE WAYS TO TAKE ACTION:

Attend Mustangs on the Hill Sept 29th

Petition to Sign:

Stop the Massive Removal of Cloud's Wild Horse Herd

Letters to BLM:

State Office
5001 Southgate Drive
Billings, MT 59101
Phone: 406 896-5000
Fax: 406 896-5299
E-mail: MT_SO_Information@blm.gov
State Director: Gene Terland
Associate State Director: Howard Lemm

Billings Field Office
5001 Southgate Drive
Billings, MT 59101
Phone: 406 896-5013
Fax: 406 896-5281
E-mail: MT_Billings_FO@blm.gov
Field Manager: James Sparks

RESOURCES

Letter by Dr. Cothan 7/09

Pryor Mountain Horse Issues

"Cloud Challenge of Stallions"
Coming to your PBS station on October 25th, 2009

Last Chance to Save Nevada's Wild Horses

Animal Law Coalition

Cloud on Nature PBS

Cloud's Herd
Now Playing:
"Angels for Cloud"
with
Ginger Kathrens of the Cloud Foundation
Run time 45 Minutes
---
---
Urgent and Final Plea to Save the Pryor Mountains Endangered Wild Horses!
Tune in to WFL Endangered Stream Live for "Angels for Cloud" and listen to Ginger Kathrens Founder and Executive Director of The Cloud Foundation, as she makes her final plea in effort to save these magnificent horses. Learn how to help stop the impending doom which is being sponsored by the Bureau of Land Management, BLM.
Get the most recent updates and help bring much needed exposure to this scheduled catastrophe before it's too late.

Host: Katia Louise
Featuring music by Maria Daines
"The Future of Cloud" with Ginger Kathrens
This show is being remixed for sound quality and will be released again in October.
---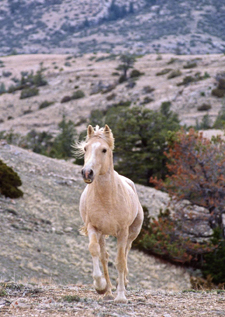 Below is a glimps of what may be the last peace ever known by this majestic herd of horses. From: rimrockhumanesociety
Pryor Mountain's Wild Mustangs
Read about the Challis Idaho round up here

Documents Reveal BLM Secret Plan to Destroy Wild Horses

Noted Equine Geneticist Dr. Gus Cothran warns against massive removal

ABOUT THE PRYOR MOUNTAIN HERD
The Pryor Mountain Wild Horses are descended from escaped Spanish horses brought over by the conquistadors about 500 years ago. DNA evidence links the horses to those bred in the Caribbean during the conquest of Mexico and South America. Some Crow Indians believe the Pryor Horses are descended from their large herds that at one time roamed the Pryors. The wild horses may also be descendants of the Lewis and Clark expedition horses that were stolen from expedition member, Sergeant Nathanial Pryor, in 1806 in the Pryor Mountains. The herd is unique with strong Spanish characteristics and also a wide variety of coat colors.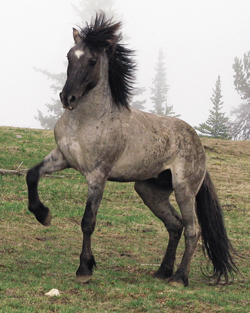 Nevada's Wild Horses: What is happening to Americas Wild Horses in Nevada is happening in every state that still has wild horses. Its seems as if there is a definite plan by the BLM to get all wild horses off of our public lands. Currently, Nevadas Ely District BLM is planning on "zeroing out" or permanently removing 11 wild horse herds with a total population of over 600 horses, in addition, they are taking another million acres from their historic rangelands. The herds slated for removal any day now are, the Golden Gate-Seaman Combined, the White River & Caliente. (more)



---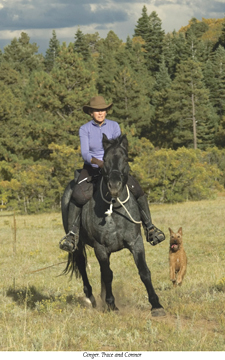 ANGELS FOR CLOUD: Featuring music from "I'm Comin Home"
Written and performed by Maria Daines & Paul Killington
www.maria-daines.com

Published by
NorthStar Music Publishing Ltd.
MCPS/PRS (UK)
Tel.: + 44 (0) 1787 278256
info@northstarmusic.co.uk